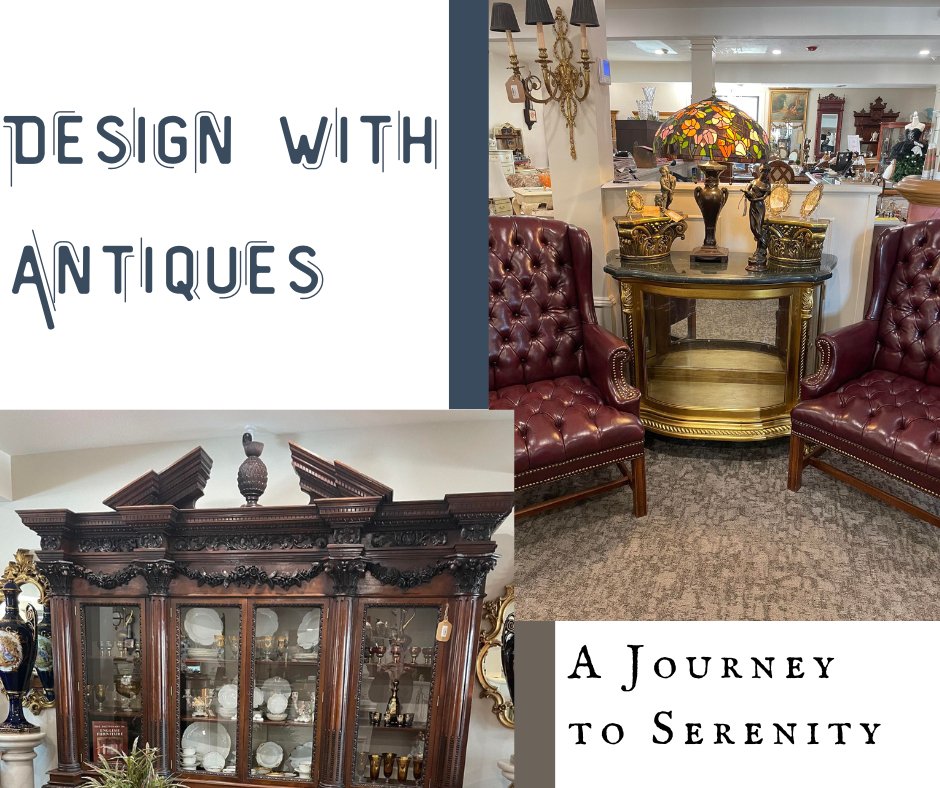 Designing with Antiques: A Journey to Serenity.
Design and Well-Being Regardless of whether more of your time is spent at home OR the office…it is going to greatly augment your mental and physical well-being to create, for yourself or your family, a perfect stress neutralizer! For myself, the ideal decorum is "casual elegance." The key to this is to be relaxing and, simultaneously, appealing as in "tickling the artist's funny bone!" I have yet to see any style of furniture to where antiquities did not greatly enhance or exaggerate the end-all, sought after "look." A well-designed home and office will reap countless short- and long-term benefits ranging from a greater sense of pride derived from unending compliments and conversation starters to just the much-needed ability to truly be able to relax on the deepest level possible.
As you view your surroundings, you should always be reminded of either fond times growing up with the family (via heirloom pieces) or even fun furniture shopping trips with the spouse and/or the kiddos to find…"just the right item" for that awkward, sparse area. Our furniture pieces, like our diets, should be a variety of many good things! Of course, the sentimental pieces we keep, but others we can and should change out just to spice up life a bit and keep us on our toes and always thinking about the next venture and look we may want. Every 2 or 3 months, at least, we should make serious attempts to continue to improve each room. Design is never finished; always a "work in progress," as they say. Design lives and breathes and had a life of its own!
While it is on my mind, I must digress and say how very, very sad and disappointed it makes me that over the last couple of decades we seem to have lost the appreciation for real talent and craftsmanship in the furniture and decor arena. I understand and appreciate "simplicity" as well as anyone., but this doesn't mean that it's morally wrong to possess pieces with "curves and carvings!" Actually, I even appreciate the Shaker style as well as Primitives and the Farmhouse decor, but the "fancy stuff" melds beautifully with the Primitive and Shaker style AS WELL as with the Contemporary! That Modern look reminds me, totally, of doctors' offices or that cartoon series, The Jetsons. I shall never forget the first time I saw The Jetsons (being the prissy little designer I was even back then…), I said to mom: "Where is all their pretty furniture? Who took it from them and why?
Don't be a "Fanci-phobe!" (Fear of gorgeous, ornate pieces of history)
Beautiful and unusual pieces will enhance your home or office ten times over!! I love the old stackable bookcases and, as well, the carved and hand painted Baroque trinket cabinets! Many of us do not become interested in history until we go thru a few ice cream seasons, but as you become adept at "the hunt," you learn to love and crave being brought up to speed on the origin of the piece u are after. And again, it is fun when you entertain being able to tell all about the history and period of your newest design acquisition! If some of you feel you were born without the "Design" gene; no worries at all! You just buy some home decor magazines and …COPY! As you do this more, you will be calmer and more confident with it all.
Then, it's even sometimes possible to develop latent talents in that area, often times. From my vantage point, the world has never been a tougher place to exist and survive…to navigate life now makes it all the more necessary that we all do whatever is necessary in order to de-stress our abodes! Furniture and design are pivotal in that endeavor. Another "facet" and potentially positive outcome and therapeutic side effect of design is that it can be done with your spouse. Any way to spend time with and develop or share mutual interests or hobbies is always good! You will learn more about your husbands' tastes and maybe if you can get him "hooked," you can redecorate more often…going to sign off for now; next week we will be talking about all different decorating styles!
By Jody G.