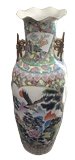 Extra Large Monumental Chinese Porcelain Vase
Original price
$850.00
-
Original price
$850.00
This Extra Large Monumental Chinese Porcelain Vase is a breathtaking home decor piece. Its luxurious design is crafted from premium porcelain and its exquisite detailing is unparalleled. Add a touch of extravagance to any room and make it the centerpiece of your home!
Pickup In-Store & Save
or have it shipped directly to your door with out safe & secure shipping service.