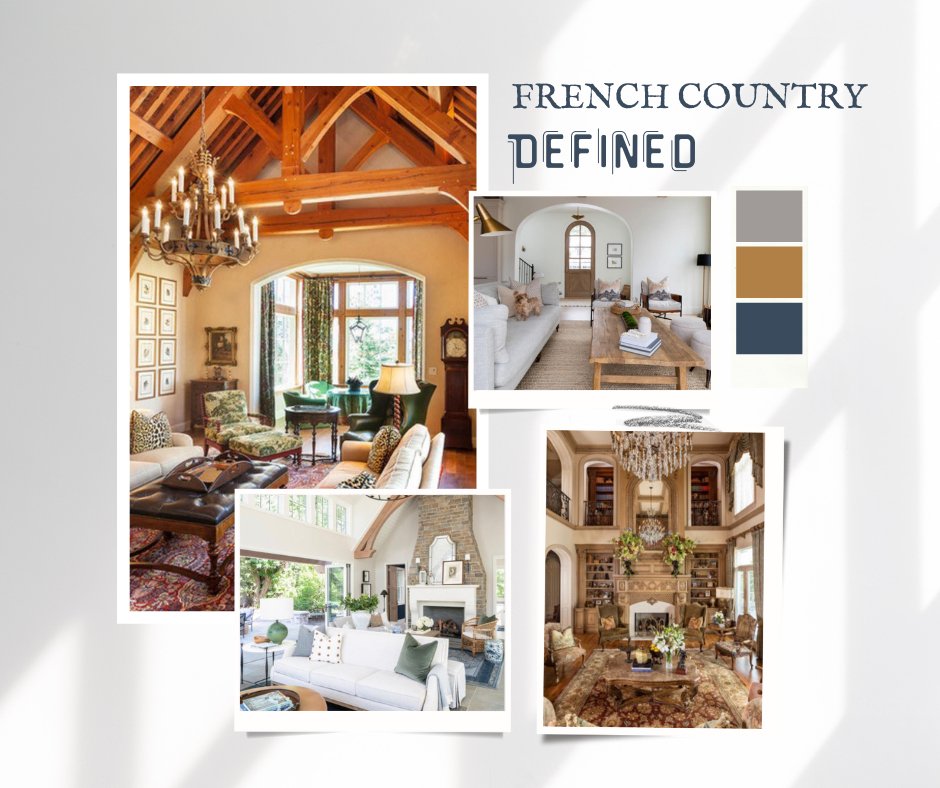 French Country Defined
This week we will reflect upon the French Country decor! It is so fun and one thing I have noticed and admired about this style is that it is completely "uninhibited" with the number of architectural elements they are open to using, simultaneously on their exteriors! It is wonderful seeing wood, rock, brick, copper or bronze and the old-world stucco melded perfectly and being so "inviting!"
Even with a passing quick glance at one of these "havens," you just want to invite yourself in!!! Entering a French Country abode, u will, again, notice natural materials alongside muted colors and generally some chintz fabric and French period wallpaper. For instance on their colors, they wouldn't go near an aqua or turquoise, but rather, mix the turquoise with a chestnut or dark brown glaze and then u will come up with a warm teal!
This color is very relaxing which parallels the European lifestyle. With French Country, you can have curves and carvings but often times, the wood will be simply sanded down smoothly with a muted color wash or glaze or buttercream "wash" as a finish. It can be "understated while still possessing a sheer elegant presence and command of the room. The French Country style has been around as long as France, however the BIRTH of the popularization came about in the 1600's when King Louie XIV was on a mission.
He was obsessed with France becoming the "style trendsetter" and being revered by all after he renovated the Palace of Versailles! Only the top craftsmen were sought out to design and construct the most luxurious palace, ever. The king's wish WAS realized, but in the process, "translated a bit!" Obviously, no one but royalty could furnish a "home" as the king did, but the bourgeoisie were able to evolve the grandiose taste of Louie into a style which supported everyday living while, as a serendipity outcome, still boasted a very sophisticated style while keeping the total comfort aspects of "down-to-earth, day to day realism. Hence, the Country French or French Country (I hear it both ways…) style was born!
This actually came to fruition in the 18th century. It, indeed, took awhile to "morph" from the "Baroque" to the casual elegant look. This is accomplished through combining "plain with fancy" all within a single piece of furniture. To create a French Country "look" utilizing a piece of furniture you may already have such as a plain sofa table or bookcase…all you need to do is find some millwork or wrought iron brackets (Amazon has good selection) and wood glue or screw them into your plain corners on your table or book case. Then get some authentic looking silk English Ivy and lightly wind it in and out of the bracket cutouts/designs.
France is big on "softening touched" and this is an economic way to "French up" any room without purchasing a new piece. Also, make no mistake…a good decorator always had their local antique store (Bratton's of course…) on speed dial! Jake is awesome at keeping track of who is looking for what…to find your specialty pieces! Just let us know if you are needing a Country French piece to complete your look and we will seek til we find!
Written by Jody Godfrey
Home Decor Specialist