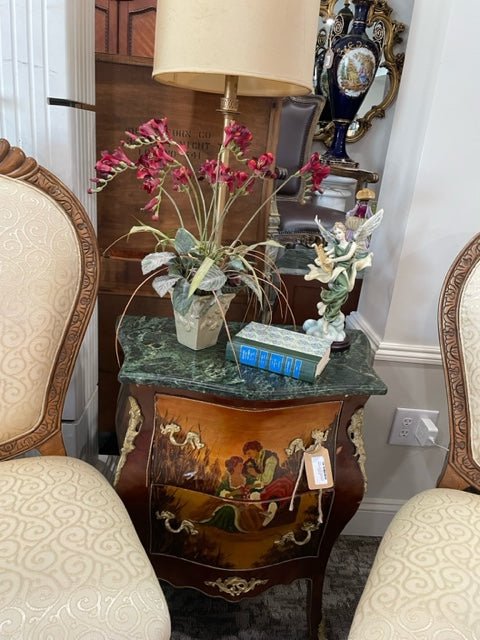 What is Accessorizing?
The term accessorizing and/or "fluffing" can be synonymous with "softening" and/or "embellishing." Though these useful items can be an investment, they certainly do not have to be! They can be inexpensive or sentimental gifts from friends or family, acquired over the years as well as pieces or items selected at estate liquidation and antique stores. 
Many people aren't born with the built in knack or talent to know "how or where" to place furniture or fluff where it optimizes space and/or is eye-catching for guests. Not a problem, it is like anything else in life, we can learn it! Even though things change quickly…there are some fundamental guidelines that remain intact:
1) Never have too much of the same thing in a room. Avoid overloading a room with too many decorative items. It is important to strike a balance and ensure that there is enough space and movement and functionality.
2) As long as there is a color scheme or design element. This can add visual interest and depth to the space. You may use florals, stripes, checks or polka dots in the same room.
3) Pillows are great as long as they don't supplant seating options. Pillows are a popular accessory and can be great as long as you make sure not to overcrowd seating areas, as it can limit seating options. 
4) Match the type of "fluff" to how or by whom the space is utilized. If it is an office or study, place items, therein, that are conducive to productivity and creativity, depending on the nature of the occupation.

5) No matter what part of the house (I can't stress this enough), make certain that the "soothing factor" and harmonious environment is implemented! Incorporate elements like soft lighting, calming colors, and natural materials to create a tranquil atmosphere. 

The point of accessorizing is to "soften" and "neutralize" the hard edges. The right item, in the right place, in the right proportion is everything. The room will always feel off or misbalanced if the proportion is out of sync. In your mind start seeing all decorating pieces in two basic categories, where "fluffing" is concerned. The categories will be "Functional or Fluffy;" "Hard or Soft."
Some examples for the "novice" to understand:
A picture would be considered "functional or hard" Until is put into a pretty frame. It could then become an accessory. A vase or a planter could be considered "hard" until you add flowers or greenery to it to become "fluff" or a "softener" for a table, shelf, etc. A chair without a pillow or throw could be considered "hard" and then become "softened" by a small quilt maybe with a pretty book lying on it! And, again, I would recommend this effect for the extra seating not utilized, often. You can also add a "fake" cake or faux cupcakes to a beautiful crystal or cut glass antique cake stand (which we have at Bratton's!) as an example of a "softener!"
Many estate liquidation stores have decorative pillows $10 or less. Most, as well, will carry potted greenery or nice floral arrangements for under $10. The books I use for the finishing touches are often as low as $2 for a hardback and beautiful magazines can add some "fluff," too!
Ornamental Tea Cups and Saucers are plentiful and very reasonable, as well as vases and pitchers.
Bratton's has some of the most beautiful and unique specimens that I have ever seen! You can find some of this amazing merchandise on our website at bransonantiques.com. Wherever you are, come see us and visit us on Facebook at https://www.facebook.com/brattonhouseofantique and remember to comment .
I wish you a "Fantastic Fluffing!"
Jody Godfrey, Home Décor Specialist